The impossibility of physical presence, whenever it actually exists, gives birth to a different approach to modern psychotherapy. The sessions with the psychologist, then, are carried out using various video conferencing tools.
I use a variety of treatment strategies, adapting the treatment to your unique complex needs. I offer my services as a psychologist to individuals as well as to couples, families and groups.
The seminars are offered to companies and organizations both live and online. Their design is based on your needs and the theme you choose so that it meets your goals.
katerina vati - MSc.Health Psychologist
Together we can deal with the wounds of the soul
Stress, anxiety, panic attacks, phobias, depression, eating and psychosomatic disorders: concepts that increasingly belong in our daily vocabulary and lead us to the psychologist. Emotions that we find difficult to manage and affect our modern and demanding lifestyle.
Together we will discover how we can recognize them, manage them and finally deal with them. Having an open mind to meet people from different cultural and religious backgrounds, I observe the impact that family, environmental, spiritual and socioeconomic factors may have on you.
It is my principle to respect you at all times and to offer you a safe environment in which you can trust me to open your soul and have the courage to share your personal difficulties.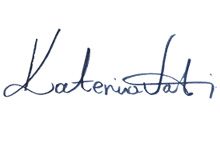 selected psychologist therapies
Which treatment suits me?
The treatments I suggest are tailored to your unique needs. As a psychologist I respect your rhythm and my guidance aims to improve your mental health through a holistic approach.
The Ηollistic Aproach
Issues
Accept, treat, support, guide, manage, work, collaborate, tackle, strengthen, improve, resolve!
what to expect from me
Five Stages - An Open Dialogue!
This is a five stages guide to help you better understand what to expect from me. A lot
of people book an appointment with a therapist and feel confused. Most of the time they do not know what to expect which creates a lot of disturbances, worrying and fear.
what to expect from me
More Services
Τι συμβαινει στο youtube καναλι μας;
Τα βίντεο μας
Παρακολουθήστε τα βιντεάκια που με χαρά ετοιμάζω για εσάς. Σε συνεργασία με εξειδικευμένους συνεργάτες
συζητούμε και αναλύουμε θέματα τα οποία πιστεύω πως αφορούν όλους μας.
Each of us wants someone to talk to. I am here to listen to you with all my heart!
They wrote about me
Reviews
Understanding your requirements and goals is important for the psychologist. I listen and collaborate
to create a truly unique and unforgettable experience.
"Katerina is not only a great psycologist but she is also a great person. She is very respectful, sensitive and bright. She has a lovely welcoming attitude and a lovely tone of voice. I highly recommed her!."
"Katerina has excellent professional knowledge. However, she does not speak from scientific books but from the heart where she integrated the knowledge and transformed it into her own. For me, that is certainly one of the most important skills in 'psychological work' (be it therapy or coaching or something else). And with this skill I find it extremely motivating to participate in her facilitation. Thank you Katerina Vati"
"Katerina helped me immensly 13years ago, all the time ever since and I cannot wait to start again now! Full heartedly recommend Katerina as a profesional psychologist and the warmest and caring lady with incredible skills and intuition. We all gain incredibly from your comeback🧘‍♀️"